What Are My Amazon Storage Limits?
All professional Seller Central accounts receive a minimum of 25 cubic feet for storage. How much is that? In terms of Amazon storage limits, that's about 1/3 of a pallet. Not bad, right? Not a lot though. This amount might be fine for testing new inventory. However, if a seller buys by the container – they'll need 30 more pallets of space. So how does one earn more real-estate in an Amazon fulfillment center?
What is an IPI Score?
Amazon increases storage limits with time and good sales. For example, they evaluate month over month 'sales to inventory' ratios. In fact, this ratio is called an 'IPI' score. IPI stands for Inventory Performance Index. The IPI is a function of how productively a seller manages their FBA inventory.
Specifically, Amazon uses the these criteria to build out your IPI score:
Firstly, maintain a balanced inventory level and avoid excess and aged inventory. (Excess Inventory)
Secondly, avoid long-term storage fees. (Sell Through Rate)
Thirdly, Fix listing problems. (Stranded Products)
Fourthly, keep your most popular products in stock at the right levels (In-Stock Inventory)
How to Keep a Strong IPI for Amazon?
Avoid excess and aged inventory. Maintain enough inventory for 30 to 60 days of sales.
Improve your 90-day rolling sell-through rate.
Fix stranded listings to ensure inventory is buyable.
Increase sales by keeping popular items in stock.
Amazon evaluates your IPI criteria using the following category system:
Therefore, a formal report looks like this:

To clarify, Amazon evaluates four variables:
Excess inventory
Sell-through rates
Stranded products
In-stock inventory.
These all contribute to your final IPI. Nevertheless, Amazon isn't as transparent with the specific variables involved in imposing actual storage limits. However, the factors below contribute to how seller storage limits get calculated:
Sales Volume
Historical IPI scores
The capacity of the nearest fulfillment center
Overall, FBA sellers with consistently high IPI scores and strong sales volume earn higher storage limits from Amazon.
How To Check FBA Storage Limits?
Checking FBA Storage Limits
Firstly, Inside Seller Central, click on upper right corner menu icon.
Secondly, from that list, select the Inventory Tab.
Thirdly, next, under the inventory tab, select Inventory Planning. This generates your IPI dashboard.
Fourthly, next to the Dashboard Tab, select Performance.
Lastly, at the bottom of the right corner, look two pop up menus. The first is titled Restock Limits. The second is titled Storage Volume. For example, review the bottom left corner of the picture below: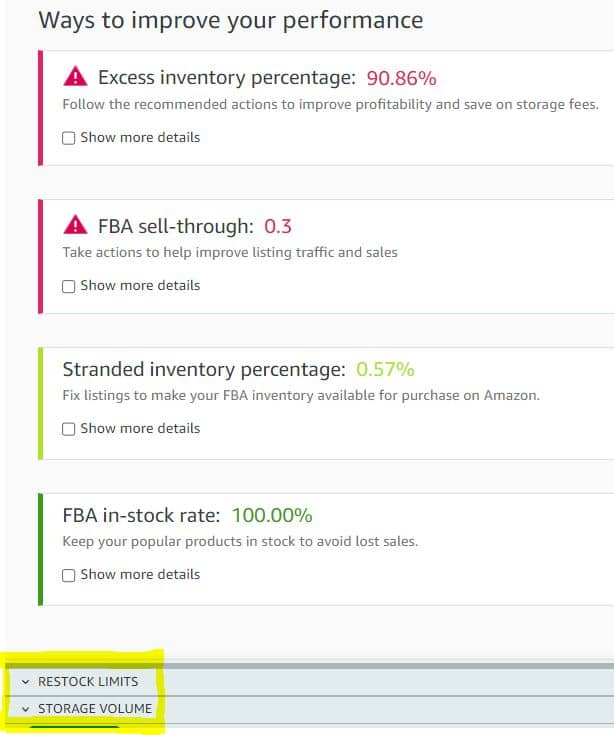 Overall, you should find all the information you want about storage limits in the highlighted area. Seller Central outlines all the data related to FBA storage here.
How To Increase FBA Storage Limit?
Sellers cannot purchase new storage limits. Increased storage limits are earned. How? Firstly, decrease product prices. This will boost sales on excess inventory. Secondly, employ additional marketing tools to boost regular sales velocity. Thirdly, fix listings to make your FBA inventory available for purchase on Amazon. Products at Amazon cannot sell if listings are dormant or inactive. Lastly, ensure you do not run out of product. After all, Amazon cannot reserve more space for you, if you do not have adequate inventory available.