Firstly – to access your FBA storage costs – log into Seller Central. Again, to follow this page's instructions, login to Seller Central.
Afterwards, click on this link. It will take you to a page that looks like this:
Storage Costs in Amazon's Seller Central
Secondly, to find your FBA storage costs – click the Monthly Storage Fees Report button highlighted. Afterwards, this directs you to a downloads page. On the left side of the screen, look for a Payments tab. For example, click the highlighted Monthly Storage Fees as seen below: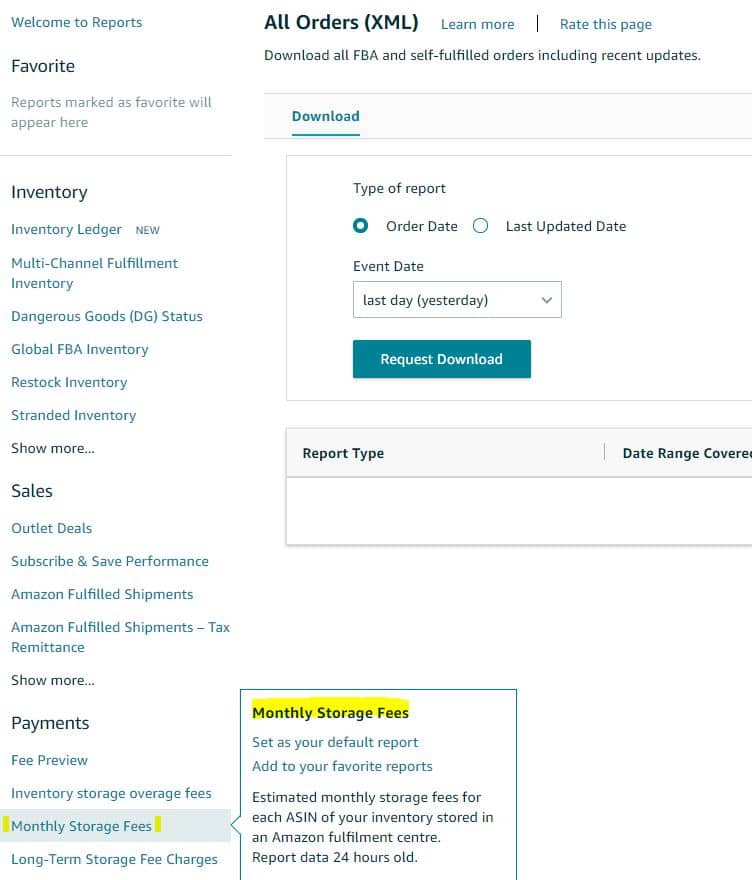 How To Download Your Amazon Storage Bill?
Thirdly, once you ID the correct tab, select Monthly Storage Fees, as highlighted. This directs you to the Report Download Page. To illustrate, see the pictured page below. Choose between a .CVS file or .TXT file. Select your preferred file type.
Does my Storage Report Show FBA Inventory Levels?
As shown above, you can download your FBA storage costs report. This helps you understand how much storage Amazon is charging each month. In fact, it provides a detailed itemization of storage categories for each product in stock. However, it does not show you how much you can store.
How To Calculate My Amazon Storage Fees?
Amazon employs a simple formula to determine your storage bill for FBA inventory. In fact, we listed its variables below to understand how Amazon charges its rates:
Product Size Tier
Current Month
Product Volume
Average Daily Units
Dangerous Goods Classification
Amazon Storage Fee Example
Formula
Fee Per Product = Average Daily Units x Volume Per Unit x Applicable Rate
Sample product
Size tier: Standard-size
Current month: July
Volume per unit: 0.05 cubic feet
Average daily units in storage: 100
Dangerous goods classification: Not a dangerous good
Calculation
100 average units per month x 0.05 cubic feet per unit x $0.83 per cubic foot (standard-size rate in July) = $4.15 total monthly storage fees