Sellers use Amazon Fulfillment Centers to store and ship their products to customers as part of the Fulfillment by Amazon (FBA) program. This is great, until your products stop selling. In fact, once your products start collecting dust, they start collecting storage charges too. This article explores what exactly are Amazon Removal Orders is, how to submit a Amazon Removal Order and the time and costs related to it.
What is an Amazon Removal Order?
An Amazon Removal Order refers to a process by which FBA sellers can request the removal of their inventory from Amazon's fulfillment centers. This is in essence an application of reverse logistics, by which the product moves back up the supply chain, away from the end customer.
Amazon Removal Orders are important for several reasons:
Managing Supply & Demand
Saving Money
Boosting Sales Performance
Improving your IPI Score
Customer Experience
FBA Product Rotation
Market Trends and Changes
Improved Profit Margins
Reduced FBA Listing Clutter
Growing New Products
Read about these in more detail by selecting the link in the heading of this paragraph.
What is the Cost to Remove Amazon Inventory?
Good Question. In short, it depends. The location of the fulfillment center, shipping destination, and both size/weight of items all contribute to the cost of an Amazon Removal Order.
Please note that Amazon's policies and fee structures can change over time, so we recommend checking directly on Amazon Seller Central or contacting Amazon Seller Support for the most up-to-date and accurate information regarding removal order costs.
All the same – here's what it looks like as of Q3 2023, per Seller Central: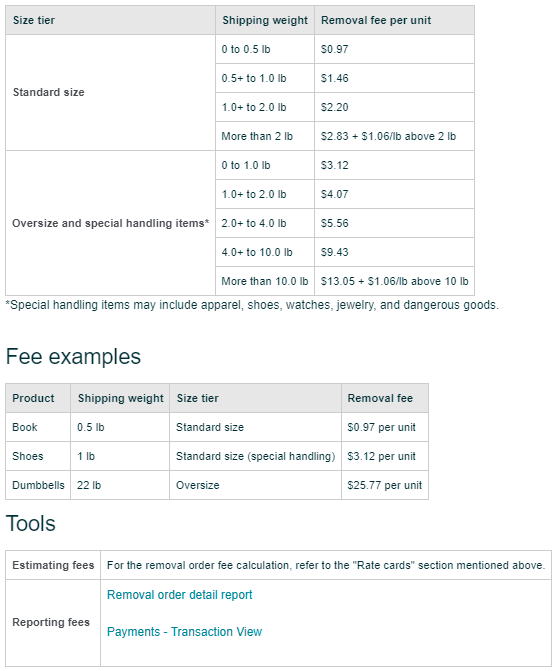 So – where do your items fall in this range? Where will they ship from? And where are you shipping them to?
Amazon will provide you resources to estimate and monitor the costs related to your Removal Order in Seller Central, as seen at the bottom of this image. Make sure you leverage the resources in your account and with Seller Central Support to get the most accurate costs related to your Amazon Removal Order.
How Long Do Amazon Removal Orders Take?
On average a Amazon Removal Order takes 10-14 days. Note your products are most likely stored at several different fulfillment centers. Therefore it may take longer for every last unit to be shipped. At Momentum Warehousing, we've see client's removal orders take up to 3 months to be fully collected by our receiving team.
How to Automate Amazon Removal Orders?
An Amazon seller can automate the FBA removal process for unfulfillable items or fulfillable items (i.e. inventory exposed to long-term storage costs). Because Amazon takes stock of inventory on warehouses on the 15th of every month, your goods wont be charged storage if they are out by then.  
What is an Unfulfillable Amazon Product? 
Whenever Amazon deems that a product is not in a sellable condition, its status is changed to Unfulfillable. Amazon notifies sellers whenever a product becomes unsellable. If a seller does not create a removal order for unsellable inventory within 30 days of Amazon notification, it is likely to be automatically disposed of. 
How to Automate Amazon Removal Orders for Unfulfillable Products
Here's the screen you will encounter: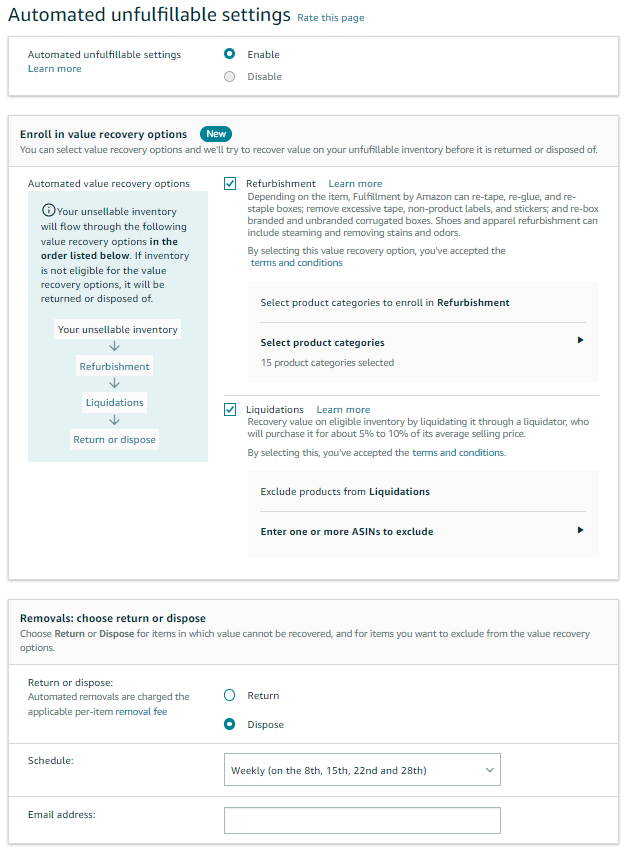 At the top – select "Automated Unfulfillable Removal Settings," and click "Edit."
At the top of the Bottom Half of the screen, click Enable and select one of the following:

Return: to have unsellable inventory returned to you.
Dispose: to have unsellable inventory disposed of.

Select a "schedule" from the pop down menu. You can pick one of three options:

Immediate (only available for dispose option)
Weekly
Twice a month

In the "Email Address" text box, enter your preferred email address.
If you selected Return, provide the address and phone number for the delivery destination.
Click Update.
Note the process above is for Unfulfillable Products.
The removal process below is for Fulfillable Products – i.e. products who are generating excess long term storage fees. Fee's that you want to stop!
How to Automate Amazon Removal Orders for Unfulfillable Products
Find the area in the "Fulfillment by Amazon Settings" page, titled Automated Fulfillable Inventory Settings:

From here you can automate Amazon removal orders for inventory subject to long-term storage fees. Just navigate to "Automated Long-Term Storage Removals Settings" on the "Fulfillment by Amazon Settings" page.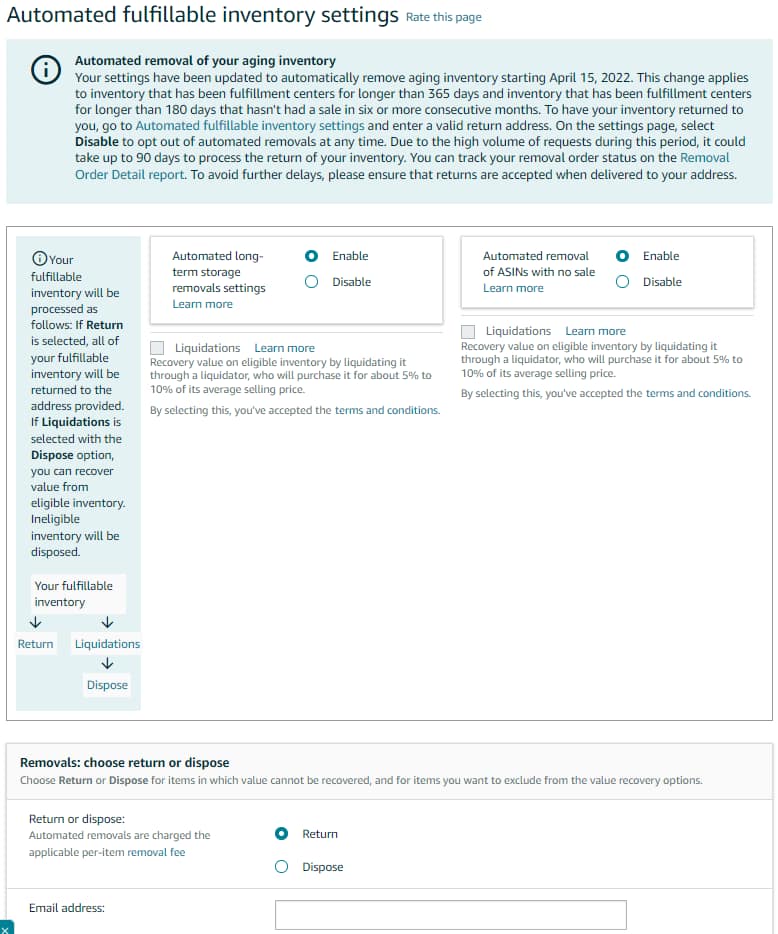 In this example, you also have the option to set the price range of the products you want to remove. In the Disposal/Return settings section, do one or both of the following:
Select Dispose. Enter the lowest and highest value for the items that you want to have disposed of.
Select Return. Enter the lowest and highest value for the items that you want to return.
Overall, items that cost more or less than the price range will remain in your inventory and will be charged the long-term storage fees.